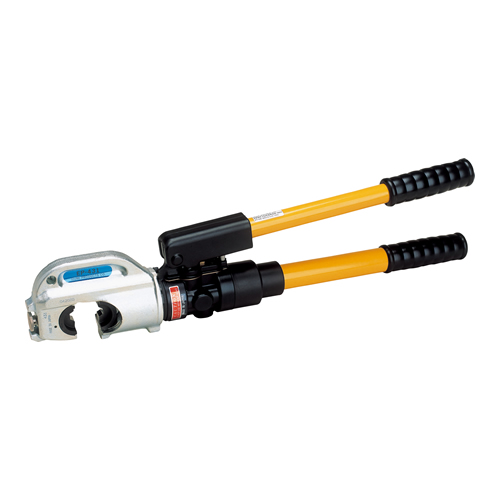 REMARKS
Dies are sold separately.
Specify the manufacturer's die and connector numbers.
* Two stage pumping action for rapid ram advance to the connector hold position with minimum pumping action
* Replaceable Dropout bypass valve cartridge for easy repair
* Fiberglass handles
* 180 degree swivel head
* Twist handle pressure release
* Accepts all dies used for Alcoa, Burndy, T&B, Klauke, Cembre and Blackburn 12 ton compressors
* Comes complete with double molded carrying case
FEATURES
The EP-431 is unique in that it has a large jaw opening of 31mm, and is able to splice 31mm outer diameter conductors.
This tool was designed for the electrical contractor and electric utility lineman who is confronted with larger cable diameter and larger connectors.
Most of the internal hydraulic components are the same as the EP-410 and the EP-510C.
This tool was designed to accommodate U-type dies for applying compression fittings to copper, aluminum and ACSR conductor.