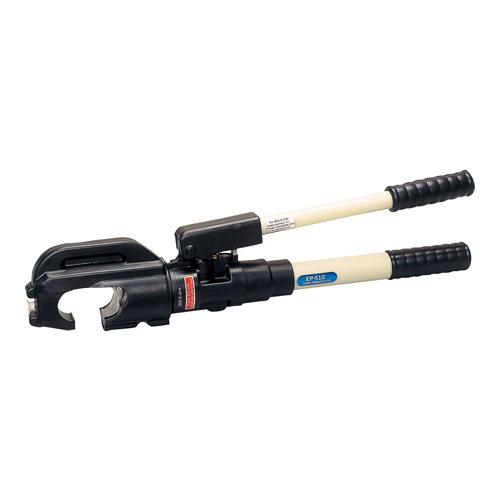 REMARKS
Dies are sold separately.
Specify the manufacturer's die and connector numbers.
* Two stage pumping action for rapid ram advance to the connector hold position with minimum pumping action
* Replaceable Dropout bypass valve cartridge for easy repair
* Fiberglass handles
* 180 degree swivel head
* Twist handle pressure release
* Accepts all dies used for Alcoa, Burndy, T&B and Blackburn 12 ton compressors
* Comes complete with double molded plastic case
* Die selection chart on page 148~149
FEATURES
The EP-510C, hand operated compression tool features a two stage rapid advance pumping system. It accepts all U-type dies currently manufactured for 12 ton tools on the market.
The jaw opening of 42mm can accept larger splice up to 750KCM. Mid-span sleeve connection can be installed on larger cables and the cable can then be removed through the jaw opening.
Consult your connector manufacturer for exact cable, connector and die combinations.
Specify the manufacturer's die and connector numbers.
This tool was designed to accommodate U-type dies for applying compression fittings to copper, aluminum and ACSR conductor.