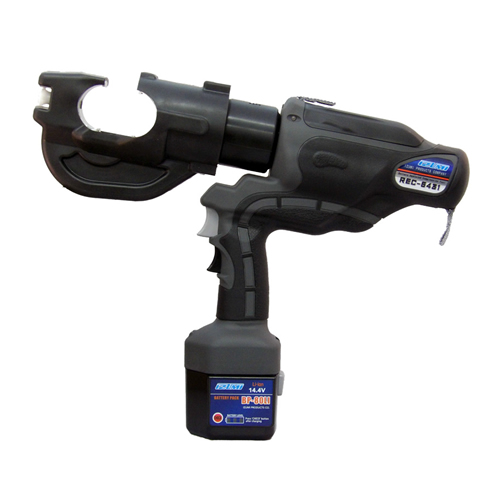 REMARKS
Dies are sold separately. Specify the manufacturer's die and connector numbers.
Specify charger input voltage.
* Battery operated pistol type compression tool
* Rapid ram advance mechanism
* Well balanced design
* 31 mm Jaw opening C head
* 14.4VDC powerful motor
* Right or Left handed operation
* Accepts all dies used for Alcoa, Burndy, T&B, Klauke, Cembre and Blackburn 12 ton U-type dies
* Optional DC charger
* Quality backed by ISO9001
* Non-slip soft grip
* LED Light for dark working site
* No pinch points on retraction
FEATURES
The REC-6431 is a battery operated 12 ton class compression tool to accommodate 12 ton U-type dies for applying compression fittings to copper aluminum and ACSR conductors widely used in the industry.
Pistol type 12 ton tool makes it easier for working in tight space or in the control box.
The trigger switch and return button are activated by only one hand so that other hand is always free to hold working material.
Electronic circuit board with LED indicates compression status and battery capacity.
The REC-6431 has electronic memory function to record number of compression cycles that tool has made.
New head design completely eliminated retract pinch points.