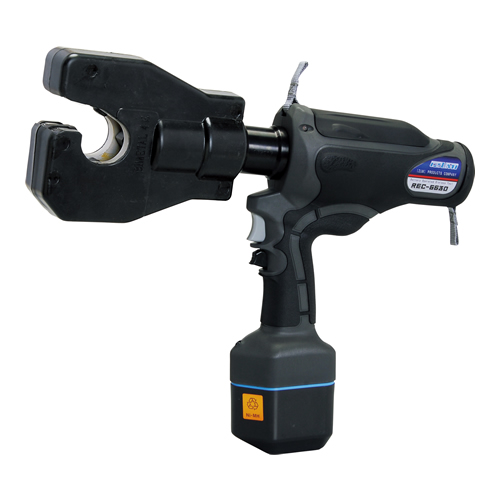 REMARKS
Specify charger input voltage.
* Battery operated dieless crimping tool
* Rapid ram advance mechanism
* Light weight aluminum forged head
* LED lights when battery capacity becomes low
* Light weight and slim design
* Pistol type housing
* 14.4VDC powerful motor
* Right or Left handed operation
* 360 degree swivel head
* Optional DC charger
* Non-slip soft grip
* LED Light for dark working site
FEATURES
The REC-6630 is a battery operated hand held dieless crimping tool used to compress Anderson type connectors up to 500KCM.
Three movable nibs push connectors against the top fixed nib. As a result, four indentations are made into the connector.
This tool is designed to install Anderson type connectors. Consult your connector manufacturer for dieless applications.