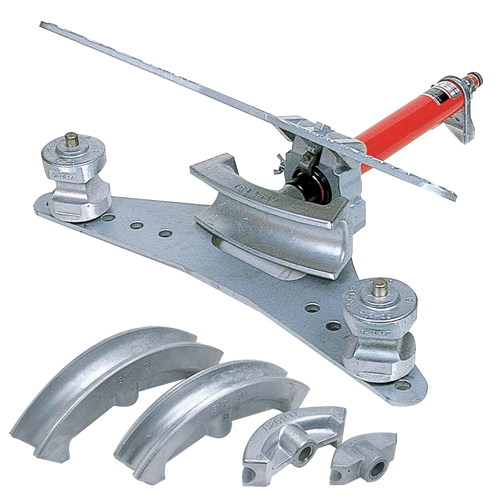 REMARKS
Hydraulic pump & Bending shoes are sold separately.
Bending Shoe
Thin conduit (A) Thick conduit (B) Gas pipe (SGP)
SizePipe dia A1515.9 A1919.1 A2525.4 A3131.8 A3938.1 A5150.8 A6363.5 A7576.2 B1621.0 B2226.5 B2833.3 B3641.9 B4247.8 B5459.6
SizePipe dia B7075.2 B8287.9 B92100.7 B104113.4 SGP-1521.7 SGP-2027.2 SGP-2534.0 SGP-3242.7 SGP-4048.6 SGP-5060.5 SGP-6576.3 SGP-8089.1 SGP-90101.6 SGP-100114.3
FEATURES
The PB-15N was designed to bend various sizes and various thickness of steel pipes without wrinkles.
An aluminum alloy frame makes this bender lighter so that it can be easily carried to the job site.
Bending shoes are designed to bend JIS standardized conduit pipe and gas pipe listed in right chart. If the pipe outer diameter being bent is equivalent to the one from the chart, the shoe can be used for the application.