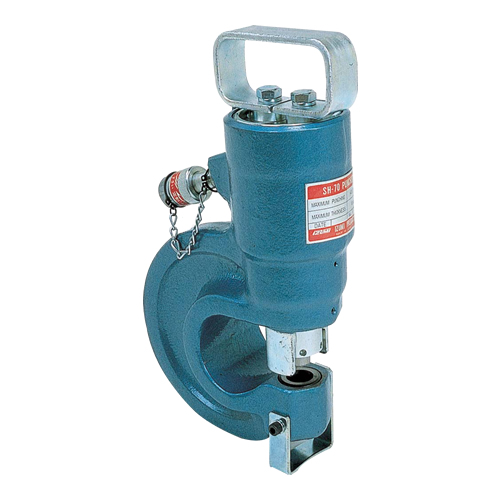 REMARKS
* Powerful perforation up to 13 mm thick mild steel with a 20.5 mm maximum hole
* Recommended for angle iron, plates, beams and bus bars
* Stripper guide extends to grip material before punching so that bending and binding or slippage can be avoided
* Stripper guide clamps punch in place to free operator's hands
* 70 mm throat depth allows commonly used angle iron
* New fixed Support stand.
FEATURES
The portable SH-70B punch was designed to punch holes through 13 mm mild steel, aluminum and copper.
It gives clean perforation through 3.2mm thick mild steel with a 4 inch hole.
A stripper guide extends on either side of the ram to strip the material after punching. This powerful punch will operate from any 68.5Mpa (10,000 PSI) hydraulic pump.
The SH-70B comes complete with four sets of punch and die sizes for 3/8", 1/2", 5/8" and 3/4" bolts, hand pin, carrying case.